La reina Letizia llegaba este domingo 31 de julio a Mallorca, junto a sus hijas, la princesa Leonor y la infanta Sofía, para iniciar sus vacaciones de verano. Y en su primer día en la isla balear presidió su primer acto oficial, pues tanto ella como el rey Felipe van a combinar los días de descanso y familiares con eventos culturales e institucionales. Doña Letizia presidió el domingo por la noche el acto de clausura de la XII edición del Atlàntida Mallorca Movie Fest 2022 (AMFF), en la que la actriz francesa Isabelle Huppert recibió el premio Masters of Cinema.
Poco antes de las nueve de la noche, la Reina llegaba al Centro Cultural de la Misericòrdia, en Palma, donde fue recibida por las autoridades baleares; entre ellas la presidenta del Govern, Francina Armengol; la delegada del Gobierno en Baleares, Aina Calvo; el presidente del Parlament, Vicenç Thomàs, o el alcalde de la capital mallorquina, José Hila. También estuvo presente el ministro de Cultura y Deportes, Miquel Iceta. Entre los asistentes a la gala se encontraban además la artista Marina Abramovic, quien saludó a la Reina a su llegada; el director de cine Nacho Vigalondo y la actriz Leticia Dolera, quienes formaron parte del jurado del certamen. El actor Omar Ayuso, el director de cine Gaspar Noé y el actor Eneko Sagardoy fueron otras de las personalidades del mundo del cine que no se perdieron el evento.
La reconocida actriz Isabelle Huppert, ganadora de dos premios César, un BAFTA y un Globo de Oro, agradeció el galardón asegurando estar "muy feliz" por el reconocimiento y agradeciendo a la Reina, quien le entregó el premio, su "apoyo al cine". Huppert, que habló tanto en catalán como en inglés y en francés, cosechó un prolongado aplauso tras el que dio las gracias por un galardón que reconoce la excelencia de una carrera desarrollada a lo largo de 140 películas: "Estoy muy feliz de recibir el premio Masters of Cinema de este competition tan especial y specific que apoya al cine del futuro, pues el cine necesita que se mire hacia adelante. También hacia al pasado para no olvidar, pero sin duda hay que mirar hacia el futuro para tener esperanza", enfatizó la intérprete, también nominada en 2017 al Oscar como mejor actriz por su trabajo en la película Elle.
El director del Atlàntida Mallorca Movie Fest, Jaume Ripoll, se sumó al agradecimiento a la Reina por su "apoyo a la cultura" y por su presencia en la clausura de este competition "complejo y singular", al que doña Letizia ya acudió el año pasado para entregar un premio a la actriz Judi Dench. Para la ocasión, lució un veraniego vestido en coloration negro satinado de Zara, apostando una vez más por una marca española low value.
Durante la gala de clausura del competition de cine se entregaron, además, los premios de la sección oficial en competición. En concreto, el Premio de la Crítica para Bruno Reidal: Confesión de un asesino, de Vincent Le Port; el Premio del Público fue para Soulf of a Beast, de Lorenz Merz; hubo una Mención Especial para Jusqu'ici tout va, de Francesc Cuéllar, y el Premio a Mejor Película se lo llevó Softie de Samuel Theis, cuyos responsables reciben por el reconocimiento 10.000 euros y la distribución del filme.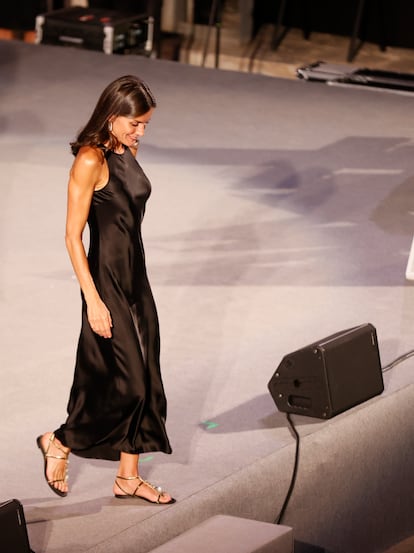 Posteriormente, todos disfrutaron del estreno del documental El Falsificador, primer documental del cineasta catalán Kike Maíllo, quien también estuvo presente en la clausura de un competition que concluyó con el concierto de Amaia, quien se hizo conocida por su participación en el programa de talentos Operación triunfo.
Esta tarde se podría ver por primera vez al completo a la Familia Actual en Mallorca. El rey Felipe llegó a la isla balear el pasado jueves. El viernes protagonizó la tradicional recepción de autoridades regionales en el Palacio de la Almudaina, y el sábado se le pudo ver en la bahía de Palma practicando uno de sus deportes favoritos: fue su jornada de entrenamiento a bordo del Aifos 500, en las jornadas de entrenamientos de la 40ª Copa del Rey MAPFRE de Vela que acoge la ciudad. Según la agenda de la Casa Actual, este lunes por la tarde será el momento del tradicional posado veraniego, cuando los Reyes acudan con sus dos hijas, la princesa Leonor y la infanta Sofía, a la Cartuja de Valldemossa.