La Semana de la Moda de París ha ocupado el calendario de la moda del pasado 27 de febrero hasta hoy. El certamen, en el que hemos visto las colecciones otoño-invierno 2022/2023 de firmas como Balenciaga o Coperni, ha estado marcado por el desarrollo del conflicto en Ucrania.
Más allá de la compleja situación precise, por unos minutos hemos soñado con la belleza del arte convertido en moda. Viajamos por las propuestas que han quedado grabadas a fuego en nuestra memoria.
Lily Rose Depp para Chanel Magnificence
Balenciaga
El desfile de Balenciaga ha sido, sin lugar a dudas, uno de los más sorprendentes e impactantes. Una camiseta teñida con los colores de la bandera ucraniana esperaba en cada asiento. Además, Gvasalia recitó un poema en ucraniano por los altavoces.
Un ambiente ártico (con nieve, viento y niebla incluidos) ha servido como telón de fondo de una colección que viaja del sobrio negro a la estética propia de las subculturas de los años 90 y 2000, con prendas de aires deportivo.
Balmain
Olivier Rousteing ha dado un nuevo giro a su pasión por la estética militar. En esta ocasión, ha optado por corsés y armaduras de aires futuristas (hay una dorada que es de infarto) que se emplean como defensa "del odio y las mentiras" de las redes sociales.
Unos diseños cercanos a la ciencia ficción que se traducen en vestidos ajustados, hombreras marcadas, mallas ciclistas y protecciones (con un twist en relación al diseño) en rodillas y codos.
Louis Vuitton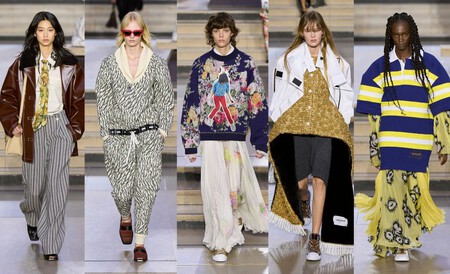 Nicolas Ghesquière ha vuelto a reafirmar su poder creativo al frente de la línea femenina de Louis Vuitton. La colección ha sido un híbrido entre lo "masculino" y lo "femenino" (si entendemos ambos conceptos desde el punto de vista tradicional) y ha originado combos tan potentes como los formados por vestidos de noche debajo de camisetas de rubgy en versión maxi. No podemos evitar hacer una mención especial a la sastrería andrógina.
Saint Laurent
El minimalismo y la sofisticación de las piezas creadas por Anthony Vaccarello son una oda a lo mejor de estética noventera. Las mujeres de Saint Laurent visten trajes con hombreras marcadas, vestidos cortados al bies, abrigos de piel sintética, cazadoras bomber y prendas teñidas de colores neutros. Podemos decir con seguridad que ha sido una de las colecciones más memorables de Vaccarello.
Off-White
Seguimos sin recuperarnos del fallecimiento de Abloh, es así. La colección de Off-White ha empleado una nave espacial como símbolo del nacimiento de la nueva línea de "alta costura" de la marca (que no cuenta con el certificado estricto de alta costura).
Particularmente/, hablamos de 28 appears to be like personificados en modelos de la talla de Kendall Jenner, Gigi Hadid, Helena Christensen, Cindy Crawford o Naomi Campbell. Por otro lado, las prendas prêt-à-porter han estado marcadas por la influencia de la comunidad hip-hop. El último legado de Virgil ha estado a la altura de lo esperado.
Valentino
El desfile que se ha hecho viral ha sido el de Valentino. Pierpaolo Piccioli ha apostado todo al fucsia y ha ganado la partida. 81 appears to be like de infarto (la mitad teñidos de rosa, la otra en tonos como el negro) que juegan con la forma sin dejar a un lado el coloration. Los detalles que han marcado (aún más) la diferencia han sido las plumas de avestruz, el juego majestuoso de capas, los bordados, las transparencias y los efectos cut-out.
Givenchy
La segunda propuesta de pasarela de Matthew M. Williams al frente de Givenchy no ha pasado desapercibida. La colección se ha caracterizado por presentar prendas ponibles y appears to be like "reales" (con el toque Givenchy, por supuesto), como los formados por sudaderas y gabardinas, vaqueros amplios y camisetas ajustadas o minivestidos en compañía de botas XXL. Atención: los denims con perlas prometen ser emulados en el quick style.
Coperni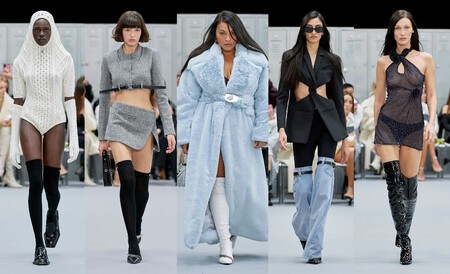 La mujer de Coperni no conoce las convecionalidades. La firma capitaneada por Arnaud Vaillant y Sébastien Meye ha apostado por el cut-out, las transparencias, los monos "imposibles", las minifaldas extremas y las capuchas. Negro, blanco, amarillo y azul han construido la gama cromática de la propuesta.

Chanel
Virginie Viard ha "rescatado" uno de los tesoros de Chanel: el tweed. Este tejido ha sido el epicentro la colección. Los trajes cortos, los abrigos y los cárdigans de tweed conviven con prendas de cuero, y piezas metalizadas. Los zapatos destalonados de punta afilada y las botas de goma son el calzado escogido por la mujer Chanel. No la recordaremos como la propuesta más reseñable de Viard, lo admitimos.
Christian Dior
The following period, con estas palabras ha resumido Maria Grazia Chiuri su nueva apuesta con el sello Dior. Pasado, presente y (en especial) futuro han unido fuerzas en una colección que aboga por la experimentación y la tecnología, realizada en colaboración con D-Air Lab. Hemos visto chalecos y piezas con hombreras, la reintepretación del clásico New Look y la "nueva" chaqueta Bar, que cumple 75 años entre nosotras.
Fotografías | Imaxtree