Lun, 08/03/2021 – 10:11 am | Por: Mike Lopinto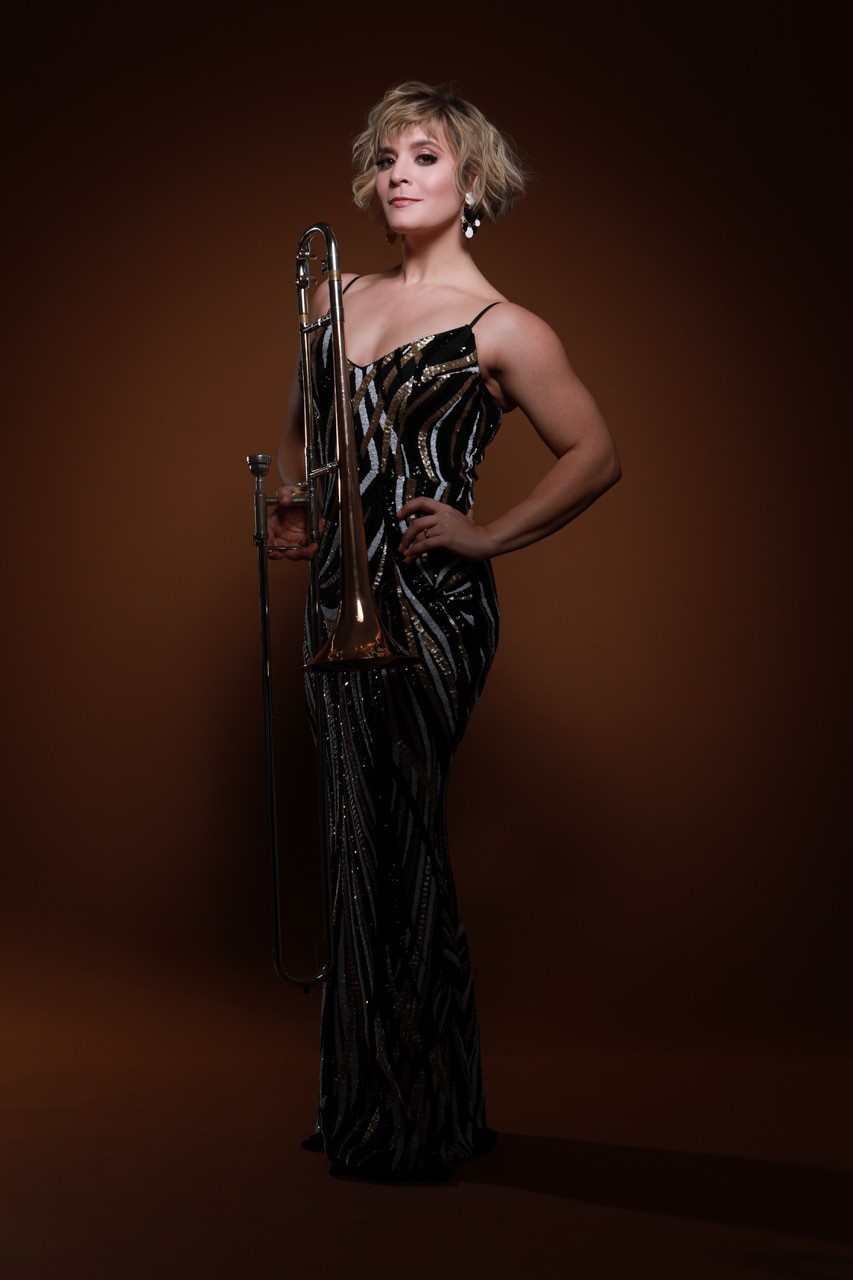 The University of Southern Mississippi Trombone Studio presenta la Southern Miss 2021 Virtual El Día del Trombón, un evento de todo el día, programado para el sábado 10 de abril. Patrocinado en parte por Partners for the Arts, este evento gratuito incluirá cinco sesiones Zoom de 90 minutos con artistas que abarcan múltiples géneros musicales y carreras de la industria musical.
Si bien está abierto a trombonistas de cualquier edad o trayectoria profesional, desde la escuela secundaria hasta estudiantes universitarios, profesionales o aficionados, también está abierto a otros instrumentistas o amantes de la música de todo el mundo. Aunque es gratis, los participantes deben registrarse para asistir en usm.edu/music/trombone.
"La tecnología que todos hemos aprendido durante la pandemia nos ha acercado aunque físicamente distanciados, lo que resultó en un Día del Trombón épico con cinco artistas de primer nivel en una ubicación virtual gracias a la accesibilidad de Zoom", dijo el Dr. Ben McIlwain. , Profesora asociada de trombón de Southern Miss. "No verás esta colección diversa y de clase mundial de artistas reunidos en ningún otro lugar ya un precio inmejorable".
El Día del Trombón del año pasado fue cancelado debido al COVID-19. A pesar de que los protocolos COVID-19 hacen que este evento sea virtual, el estudio está aprovechando la tecnología para traer artistas que están en la cima de su campo, incluidos Nikki Abissi, Achilles Liarmakopoulus, Aubrey Logan, John Romero y Nick. Schwartz.
Abissi es un trombonista profesional y un educador apasionado. Además, es la inventora de Exendabone, un mango de extensión deslizante ergonómico hecho para alcanzar posiciones extendidas.
Liarmakopoulos es miembro de Canadian Brass y Pink Martini. Además, su discografía incluye cinco álbumes en solitario: "Obvious" con la solista de arpa francesa Coline-Marie Orliac, "Ethereal" con obras líricas de los siglos XX y XXI de todo el mundo, "Trombone Atrevido" dedicado a la música choro de Brasil, "Descubrimientos "Con composiciones contemporáneas en el sello ODEG," Tango Distinto "con la música de Astor Piazzolla en el sello NAXOS – cinco grabaciones con Canadian Brass y numerosas apariciones en álbumes clásicos, pop, latinos y de otro tipo.
Logan es un artista internacional de jazz: cantante y trombonista. Su álbum debut Top-5 en 2017, Imposible, ayudó a establecerse como una de las principales cantantes-instrumentistas jóvenes del país. Entre sus compromisos de grabación, Logan encuentra tiempo para compartir el escenario con Alabama Shakes y Meghan Trainor y Pharrell Williams y Josh Groban y Dave Koz y The Commodores y Boston Pops en lugares tan diversos como el famoso club de jazz de Ronnie Scott en Londres o el expansivo Hollywood. Bowl en Los Ángeles.
Ha aparecido en Jimmy Kimmel y en el programa de premios Grammy y en The Goldbergs de ABC. Ha grabado un dueto con su héroe de la infancia, Gloria Estefan. Ha ganado múltiples premios en el Festival de Jazz de Montreux. Ella es amada no solo por los fanáticos dedicados de Postmodern Jukebox, sino que considera al creador, Scott Bradlee, y a sus colegas dentro del colectivo, sus verdaderos amigos.
Romero es el trombón principal de la Metropolitan Opera Orchestra y fue semifinalista en el prestigioso XVI Concurso Tchaikovsky en San Petersburgo, Rusia en 2019.
Schwartz es el trombonista bajo de la New York City Ballet Orchestra y ha actuado con la New York Philharmonic y Metropolitan Opera Orchestra, entre otras.
"Estoy muy emocionado de ser parte del Día de la Srta. Trombón del Sur", dijo Romero. "Conseguir colaborar con estos grandes músicos y promover la búsqueda del arte es especialmente necesario en estos tiempos".
Para registrarse y obtener más información, visite usm.edu/music/trombone.