10.00 / La 2
Retransmisión de la misa de Año Nuevo desde Roma
Otra de las citas habituales del nuevo año llega a las pantallas de La 2, que retransmite en directo la misa de Año Nuevo, oficiada por el papa Francisco desde el balcón central de la Basílica de San Pedro, en Roma. Tras la misa, el Papa saludará a los fieles congregados en el Vaticano y felicitará el nuevo año.
11.15 / La 1
Concierto de Año Nuevo, desde Viena
El Concierto de Año Nuevo de la Orquesta Filarmónica de Viena se celebra cada año, desde 1941, la mañana del día 1 de enero. Dirigido por tercera ocasión por el maestro Daniel Barenboim, incluirá piezas de Josef Strauss, Johann Strauss hijo y Eduard Strauss. El Ballet Estatal de Viena intervendrá bajo la coreografía de Martin Schläpfer con obras como La Polca de las Ninfas. La cita finalizará con la tradicional Marcha Radetzky.
15.45 / Cuatro
'Piratas del Caribe: en mareas misteriosas'
EE UU, 2011 (140 minutos). Director: Rob Marshall. Intérpretes: Johnny Depp, Geoffrey Rush, Penélope Cruz, Ian McShane.
El director de obras como Chicago y 9 se hace cargo de una de las entregas de la franquicia Piratas del Caribe. Nadie debe llamarse a engaño: ofrece más de lo mismo. Ahora, Johnny Depp viaja en busca de la fuente de la eterna juventud y hace frente al legendario Barbanegra y su hija Angélica, antiguo amor de juventud.
15.45 / TNT
'Matrix'
The Matrix. EE UU, 1999 (130 minutos). Directores: Andy y Larry Wachowski. Intérpretes: Keanu Reeves, Laurence Fishburne, Carrie-Anne Moss.
Para bien o para mal, Matrix se ha convertido en un objeto de culto, aunque idolatrado y denostado a partes iguales. Y es que, al tiempo, es una de las películas más pretenciosas de los noventa, pero también de las más fascinantes e innovadoras. No es, en absoluto, una obra maestra, pero lo cierto es que jamás se había visto nada parecido en una pantalla y que revolucionó el mundo de los efectos digitales. Sin embargo, no deja de traslucir una sensación de espectáculo prefabricado, que disimula entre fuegos de artificio una propuesta argumental en el fondo de lo más sencilla.
15.55 / Paramount Community
'Código fuente'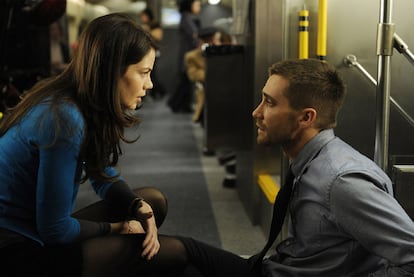 EE UU, 2011 (93 minutos). Director: Duncan Jones. Intérpretes: Jake Gyllenhaal. Michelle Monaghan, Vera Farmiga.
Después de su deslumbrante viaje al cine de ciencia-ficción con Moon, Duncan Jones rodó Código fuente, un filme menos ambicioso y de afán comercial, al que logra aportar un ritmo narrativo que lo llena de intensidad. Su inusual guion envuelve a un par de personajes en un thriller fantástico en el que los ocho minutos previos al atentado terrorista en un tren se reiteran cíclicamente a lo largo del metraje.
16.20 / Movistar Clásicos
'El fabuloso mundo del circo'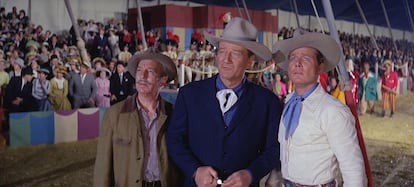 Circus World. EE UU, 1964 (132 minutos). Director: Henry Hathaway. Intérpretes: John Wayne, Claudia Cardinale, Rita Hayworth.
Henry Hathaway bucea en las interioridades del mundo del circo en una superproducción avalada por Samuel Bronston. El fabuloso mundo del circo es un buen ejemplo de cómo funcionaban los antiguos directores del Hollywood clásico: el filme, en el fondo, rinde culto al espectáculo, pero Hathaway se empeña en manejar con rigor a sus personajes, crea secuencias de indudable potencia dramática y trenza las tramas del relato con singular habilidad. Por otro lado, la presencia en el guión de un maestro como Ben Hetch resulta todo un aval. Para terminar, basta con echar un vistazo al reparto para animarse antes de empezar la función.
16.25 / Movistar CineÑ
'Barrio'
España, 1998 (94 minutos). Director: Fernando León de Aranoa. Intérpretes: Críspulo Cabezas, Eloy Yebra, Timy Benito, Marieta Orozco.
El reflejo de la vida se convierte en vida en la pantalla. Muchos cineastas sueñan con obtener lo que lograron autores tan dispares como Truffaut, Rosellini, Cassavetes o Kiarostami. Y también Fernando León, que ha logrado en muchas ocasiones que en sus imágenes se respire la verdad. Con esa verdad retrata a los protagonistas de Barrio, tres chavales como tantos otros, ciertos y cercanos, con los que el cineasta camina de la mano para obligar al espectador a abrazar sus anhelos y sus frustraciones.
17.05 / COSMO
'La invención de Hugo'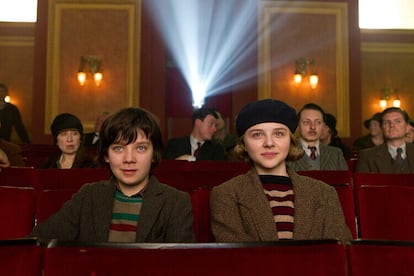 EE UU, 2011 (125 minutos). Director: Martin Scorsese. Intérpretes: Asa Butterfield, Chloë Grace Moretz, Ben Kingsley, Sacha Baron Cohen, Ray Winstone.
La realidad y la fantasía. La vida y el cine. Territorios que, en ocasiones, pueden confundirse. La invención de Hugo persigue a un niño huérfano que vive en la estación de Montparnasse, en París, y que se vuelca en la creación de un robotic, remedo de vida humana. Cuando el cine se haga presente, lo hará en forma de certeza important o, quizá, de imaginado sueño, con la presencia del más grande pionero de la imagen, del hombre que llevó un cohete a uno de los ojos de la Luna. Una auténtica maravilla.
18.25 / Hollywood
'El sentido de la vida'
The That means of Life. Reino Unido, 1983 (103 minutos). Directores: Terry Jones y Terry Gilliam. Intérpretes: Graham Chapman, John Cleese, Terry Gilliam.
La última película grupal de los Monty Python se adentra en terrenos filosóficos; ahora bien, lo hace con desmadradas intenciones. Tras la legendaria La vida de Brian, los deslenguados comediantes ofrecen una sucesión de episodios unidos por el gamberrismo. Tres de ellos abrazan la genialidad: el memorable inicio del filme, que homenajea las películas de piratas a costa del mundo de las finanzas, el segmento musical de la familia católica que culmina con el comentario de un matrimonio protestante y el pantagruélico banquete que acarrea nefastas consecuencias.
18.40 / Movistar Clásicos
'Espartaco'
Spartacus. EE UU, 1960 (180 minutos). Director: Stanley Kubrick. Intérpretes: Kirk Douglas, Laurence Olivier, Jean Simmons, Charles Laughton, Tony Curtis.
La búsqueda de la utopía late en las imágenes de Espartaco gracias a la magia de Stanley Kubrick, quien realizó la película más humana de su carrera en este memorable retrato del referente en la lucha contra la esclavitud. Buena parte del peso de la obra recae también en un modélico guion de Dalton Trumbo, que fue rescatado por el productor y actor Kirk Douglas de la execrable lista negra provocada por el macartismo. Un fresco espectacular, extrapolable, en realidad, a todas las épocas.
20.10 / TCM
'El sueño eterno'
The Large Sleep. EE UU, 1946 (114 minutos). Director: Howard Hawks. Intérpretes: Humphrey Bogart, Lauren Bacall.
Howard Hawks como director. Un guion de Faulkner, Brackett y Furthman. Bogart y Bacall. ¿Qué podía salir mal? Incluso con una trama tan compleja que se aseguró guionistas y director diferían sobre quién period el autor del crimen inicial. Así, no importa el relato, sino zambullirse en las imágenes de un cine que ya no existe.
21.30 / La 1
'Informe semanal', con lo más destacado de 2021
El espacio Informe semanal repasa los acontecimientos más destacados del año 2021 en los apartados de sociedad, cultura y deportes. El programa recordará hechos como el temporal de Filomena y la erupción del volcán de Cumbre Vieja, en la Palma. También analizará las consecuencias del coronavirus en la salud y en la economía, la ley de eutanasia o el proyecto de la ley LGTBI, así como la lacra de la violencia machista, que ha segado la vida de más de cuarenta mujeres. No faltará el homenaje a algunas de las voces y figuras que han fallecido en 2021, como Raffaella Carrà, Mario Camus, Verónica Forqué o Almudena Grandes, entre otros.
21.30 / DMAX
Un viaje con las criaturas mitológicas
DMAX invita a los espectadores a un viaje en busca de ciertas criaturas mitológicas. El canal plantea una noche temática con entregas de dos de sus sequence documentales más populares, Megalodón y Sirenas, con dos entregas especiales de dos horas cada una que se acercan a las leyendas, escritos e investigaciones que perduran en torno a la imaginada existencia de estos seres acuáticos extraordinarios.
22.10 / Antena 3
Entrega especial de 'Tu cara me suena'
Ya es tradicional que Tu cara me suena cuente con su Concierto de Año Nuevo. Para recibir a 2022, el programa reúne a varios de sus participntes habituales. En la apertura, el jurado será el protagonista con Carlos Latre imitando a Raphael, Chenoa en la piel de Emilia Clarke, Ángel Llácer convertido en Mariah Carey y Ruth Lorenzo como Miley Cyrus. Entre los invitados, estarán presentes Luis Fonsi, Rosario Flores, Lydia Bosch, Anabel Alonso y Mario Vaquerizo, entre otros. También volverán al programa dos ex-concursantes como Carlos Baute y Melody. Y para cerrar la gala habrá una versión del Jingle Bell Rock en la que participará hasta Manel Fuentes.
0.25 / #0
'La ventana indiscreta'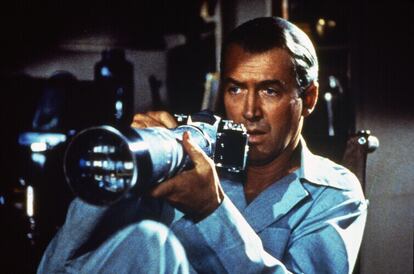 Rear Window. EE UU, 1954 (108 minutos). Director: Alfred Hitchcock. Intérpretes: James Stewart, Grace Kelly.
Quizá sea La ventana indiscreta el filme de Hitchcock con mayor cantidad de lecturas: una metáfora sobre la propia naturaleza del cine, un estudio sobre la condición voyeur del espectador, sobre el valor de la mirada que recrea y construye la realidad… Sus sugerencias resultan infinitas. Entre todo ello, el maestro solo necesita dos escenarios para tejer el suspense: una habitación en la que un escayolado James Stewart mata el tiempo espiando lo que hacen los demás y un patio de vecinos en el que se quebrará la rutina cotidiana.
Puedes seguir EL PAÍS TELEVISIÓN en Twitter o apuntarte aquí para recibir nuestra publication semanal.