9.45 / Divinity
'Vaya jardines', nuevo 'make over' de paisajismo
Tres amigos y socios de una reputada compañía de paisajismo neoyorquina transformarán anodinas zonas outside en asombrosos oasis. Esta es la thought que presenta Vaya jardines, el espacio de paisajismo que estrena Divinity. Esta primera entrega presenta dos proyectos, la remodelación de un patio de piedra y la creación de un ambiente playero en la azotea de la vivienda de una pareja en el barrio neoyorquino de Brooklyn.
12.05 / Movistar Clásicos
'La caída del Imperio Romano'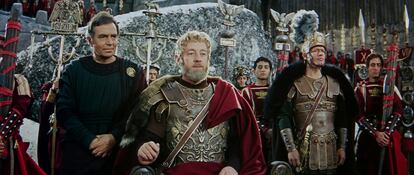 The Fall of the Roman Empire. EE UU, 1964 (188 minuts). Director: Anthony Mann. Intérpretes: Alec Guinness, James Mason, Sophia Loren.
Tras la muerte de Marco Aurelio, Roma inicia su decadencia. Una película apasionante, producida por Samuel Bronston y dirigida por el maestro Anthony Mann en los últimos años de su vida, al servicio de un relato intenso y emotivo, arropado por un reparto estelar.
15.10 / TCM
'¿Qué me pasa, physician?'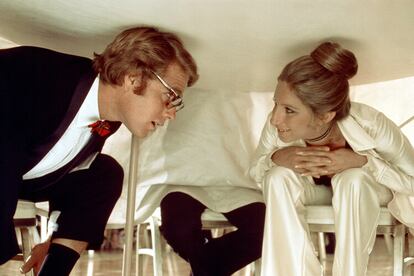 What's up, Doc? Estados Unidos, 1972 (90 minutos). Director: Peter Bogdanovich. Intérpretes: Barbra Streisand, Ryan O'Neal, Madeline Kahn, Kenneth Mars.
Un descacharrante homenaje a las comedias enloquecidas de los años cuarenta, en concreto a la obra maestra La fiera de mi niña, de la que se convierte en un indisimulado remake. Claro está que Bogdanovich no es Howard Hawks, ni Ryan O'Neal es Cary Grant y, sobre todo, Barbra Streisand ni se acerca a Katharine Hepburn. Pero en el filme planea un aroma de sentido homenaje y de respeto por los códigos clásicos del género, además de cierta utilización de las formas visuales del cine mudo que convierten esta película en una rareza insólita, irregular y desajustada si se quiere, pero tan encomiable como cómplice.
17.35 / Sundance
'Especiales'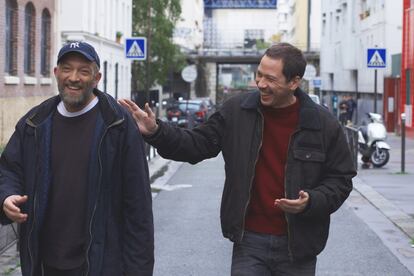 Hors Normes. Francia, 2019 (114 minutos). Directores: Olivier Nakache y Éric Toledano. Intérpretes: Vincent Cassel, Reda Kateb.
Ocho años después del monumental éxito de una película tan liviana como Intocable, Olivier Nakache y Éric Toledano abordan una obra de más enjundia. Especiales se centra en dos amigos que atienden un centro, sin ánimo de lucro, que recibe a niños y adolescentes autistas o discapacitados, mientras forman a jóvenes para que sean cuidadores de casos extremos. Una obra comprometida, austera y de gran calado, sostenida por dos actores inmensos como Vincent Cassel y Reda Kateb.
20.30 / La 2
'Días de cine' desvela sus premios para 2021
Los IX Premios que concede Días de Cine se entregarán el próximo 18 de enero en el Museo Reina Sofía de Madrid. Entre los galardonados se encuentran el director de fotografía José Luis Alcaine, la película Quién lo impide, de Jonás Trueba, la actriz Tamara Casellas y la guionista y directora Clara Roquet. El programa también repasa los estrenos de la semana, como Delicioso, ¿Qué vemos cuando miramos al cielo? y El día de la bandera.
21.30 / La Sexta
Un recuerdo de los campos de concentración de Franco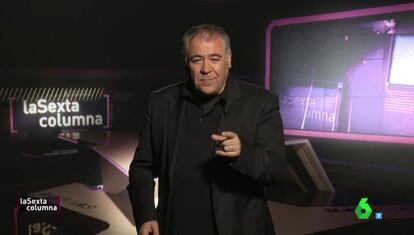 El espacio laSexta columna indaga en los 300 campos de concentración que existieron en la España de Franco. En esta entrega, entrevista a los últimos supervivientes de estos campos destinados al trabajo forzado o el adoctrinamiento. Los recintos para encerrar a los prisioneros pasan hoy desapercibidos en paradores nacionales, estaciones de tren abandonadas u hospitales. Surgieron durante la Guerra Civil, pero algunos resistieron más de 10 años antes de convertirse en campos de trabajo esclavo.
22.00 / La 2
Nueva etapa para 'Historia de nuestro cine'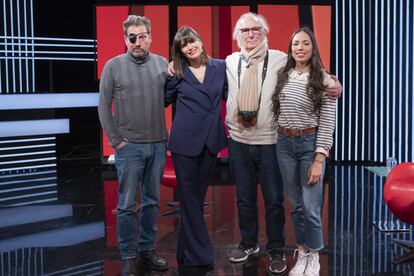 El espacio de La 2 dedicado al cine español inicia nueva etapa con Elena S. Sánchez, hasta ahora presentadora del espacio, que ejercerá también como directora. Esta primera entrega de 2022 arrancará con un homenaje a Carlos Saura, que acaba de cumplir 90 años. El programa emitirá dos filmes del autor, El séptimo día (2004) y Los golfos (1959), y en el coloquio participarán el propio Carlos Saura, su hija Anna, que colabora en la producción de sus películas, y Ray Loriga, escritor, director y guionista, entre otras, de El séptimo día.
22.00 / Telecinco
'Titanic'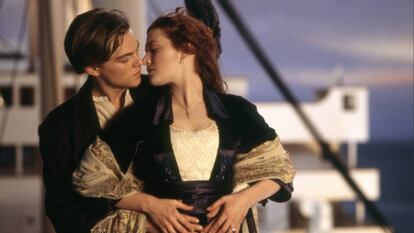 EE UU, 1997 (195 minutos). Director: James Cameron. Intérpretes: Leonardo DiCaprio, Kate Winslet, Billy Zane.
James Cameron sorprendió a todo el mundo con su intensa y estremecedora recreación de la tragedia del legendario transatlántico. Y es que Titanic no es sólo una colección de efectos especiales. Es una historia emotiva y bien escrita, de implacable progresión dramática, algo impensable en el creador de Aliens y Terminator. Y aporta una puesta en escena que recupera el aroma de los clásicos.
22.00 / Antena 3
Novena edición de 'Tu cara me suena'
Manel Fuentes se vuelve a poner al frente de Tu cara me suena. La novena edición del programa busca de nuevo las mejores imitaciones de grandes artistas. Agoney, David Fernández, Eva Soriano, Loles León, Lydia Bosch, María Peláe, Los Morancos, Nia y Rasel son los concursantes y Carlos Latre, Lolita, Chenoa y Àngel Llàcer ejercerán de jurado.
22.30 / Cuatro
'En el punto de mira' y el growth de las zapatillas deportivas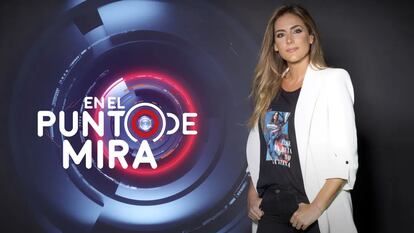 La reportera Verónica Dulanto se adentra en uno de los fenómenos más sorprendentes de los últimos años, en el espacio En el punto de mira. Según las estimaciones, las zapatillas deportivas moverán en 2023 unos 100.000 millones de euros; en los últimos tres años, sus ventas han crecido un 200% y ya son el tipo de calzado más utilizado en el mundo. ¿Por qué ha tenido lugar este growth? ¿Cuántas zapatillas se fabrican y se venden en el mundo? ¿Por qué se han convertido en un objeto de colección? ¿Cómo se especula con ellas? Dulanto tratará de dar respuesta a estas preguntas a lo largo de su reportaje.
23.45 / La 2
'Los golfos'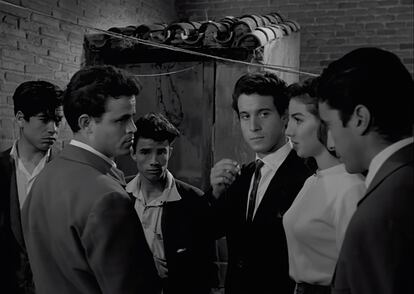 España, 1959 (88 minutos). Director: Carlos Saura. Intérpretes: Manuel Zarzo, José Luis Marín, Óscar Cruz.
La primera película de Carlos Saura se ambienta en los suburbios de Madrid, una trama que no volvería a tener correspondencia en su filmografía hasta 21 años después en Deprisa, deprisa. Saura atrapa la realidad con premura y vuelca en sus poderosas imágenes una historia bronca y desesperanzada.
23.55 / Movistar Clásicos
'La condesa descalza'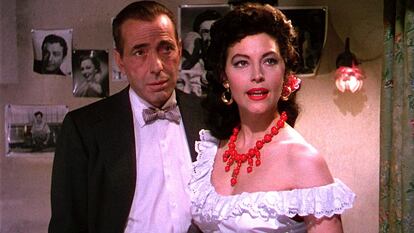 The Barefoot Contessa. EE UU, 1954 (125 minutos). Director: Joseph L. Mankiewicz. Intérpretes: Humphrey Bogart, Ava Gardner, Edmund O'Brien, Valentina Cortese.
Una de las más grandes obras de la historia del cine, firmada por Mankiewicz, el cineasta de quien se decía que jamás había filmado una mala película. Se trata de una oculta revisión del cuento de La cenicienta, que relata la vida de una famosa estrella de cine, la condesa Torlato-Favrini. Pocas veces Bogart transmitió de manera simultánea tanto cinismo y tanta ternura y nunca Ava Gardner resultó tan arrebatadora.
0.40 / Movistar Drama
'El jardinero fiel'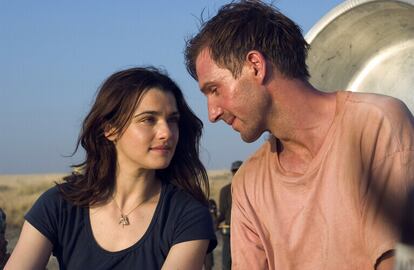 The Fixed Gardener. Reino Unido, 2005 (10 minutos). Director: Fernando Meirelles. Int.: Ralph Fiennes, Rachel Weisz, Danny Huston.
El director de la apabullante Ciudad de Dios adapta una novela de John le Carré y elabora una poderosa denuncia en favor de los desfavorecidos, de espíritu tan firme como comprometido. La intriga de El jardinero fiel atrapa la investigación de un diplomático ante el uso como cobayas humanas de cientos de míseros habitantes de Kenia; mientras, el filme va más allá de su desarrollo argumental y trenza una conmovedora historia de amor para culminar su extraordinario relato con un desenlace a contracorriente.
Puedes seguir EL PAÍS TELEVISIÓN en Twitter o apuntarte aquí para recibir nuestra publication semanal.